Freewing A-10 Thunderbolt II Super Scale Twin 80mm EDF Jet RC airplane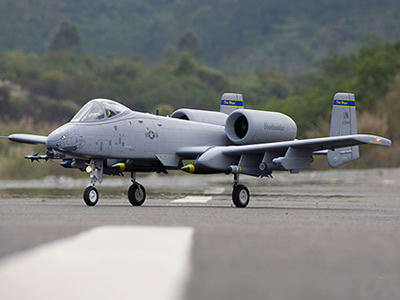 Freewing A-10 Thunderbolt II Super Scale Twin 80mm EDF Jet
Wholesale price: [ $578.00 ]
Freewing A-10 Thunderbolt II Super Scale Twin 80mm EDF Jet RC airplane
1,6 Channel Radio.
2,6 Channel receiver
3,6 Cell 5000 mAh LiPo batteries
if you want to know wholesale discount price,please contact us by e-mail.
Note:
If your shipment is delivered to a remote area,this charge will be added to your shipping cost.Checking your area is a remote area or is not a remote area on the website:http://remoteareas.dhl.com/jsp/first.jsp
Freewing A-10 Thunderbolt II Super Scale Twin 80mm EDF Jet RC airplane Specifications:
Freewing A-10 Thunderbolt II Super Scale Twin 80mm EDF Jet RC airplane
In the air, the A-10's all-new power system delivers a fully scale flight profile. Tall vertical loops, hard "jinking" turns, stable slow flight, and authoritative power. Critically, this model was designed to fly at all throttle points, both upright and inverted, without pitch sensitivity. There isn't any nose weight in this A-10; instead various factors were optimized in concert so you won't need lots of up elevator to fly level, and varying power suddenly won't cause the nose to pitch up or down.
As a semi-scale model, the Freewing 80mm A-10 is finished from the factory in USAF two tone gray. A waterslide decal set with over 50 utility markings and three complete A-10 liveries, is included for the pilot to customize his or her A-10. These decals proudly represent Indiana's 163rd Fighter Squadron "Blacksnakes", Louisiana's 47th Fighter Squadron "Termites" and Georgia's 23rd Fighter Group "Flying Tigers."
For pilots wanting to install a matched pair of their own 90mm EDFs on 6s, we will also be offering a 90mm nacelle which bolts into place and retains the outer dimensions of the stock 80mm nacelle. Own the world's largest, most capable, most customizable, and most powerful foam electric PNP A-10 and add a definitive scale powerhouse to your hangar today!

Largest foam electric PNP A-10 Warthog in the world
Full complement of highly detailed weapons included in the box (CAS loadout)
Weapon plyons are individually removable from the wing and each weapon can be placed on any of the 8 included plylons for total customization.
90mm bolt-on nacelles for those who wish to install a 90mm power system (sold separately)
Award Winner at AEF 2017 for "Best Scale Jet"
High scale fidelity
Qualifies as Giant Scale Class per AMA rules
Grass-ready retracts with metal trunions and 5mm hardened steel pin
Multi-material (full carbon fiber spars, plywood ribs, and aluminum blocks) wing structure for best balance of rigidity and smooth flight handling
Scale wheel hubs and sequenced nose gear door
DayBright LEDs and sequenced landing light
Screw-on wings and tail surfaces
Flexible wing wire harness for ultimate reliability and resistance to disconnection during wing flexing
Spacious battery bay, no cutting required
Digital Metal Gear Servos throughout
Three unique livery options and 50 different utility decals are included in the box for maximum customization
Model officially licensed by Northrop Grumman
INCLUDES:
Freewing A-10 Thunderbolt II Super Scale Twin 80mm EDF Jet - PNP
REQUIRES:
6 Channel Radio - Select a minimum 6 channel radio
6 Channel Receiver - Select a minimum 6 channel receiver
TWO 6 Cell 22.2V 4000 - 6000 mAh LiPo Batteries with EC5 Connectors - We recommend 2 Admiral 6 Cell 5000 mAh LiPo batteries
6 Cell Compatible Battery Charger - Select a minimum 6 cell (6S) charger from our Charger Collection
PRODUCT SPECIFICATIONS:
Wingspan

1700mm / 66.92in

Length

1551mm / 61.06in

Flying Weight

5406g / 190.69oz with two 6S Admiral 4000 mAh LiPo Batteries
5714g / 201.55oz with two 6S Admiral 5000 mAh LiPo Batteries


CG (Center of Gravity)
78mm back from the leading edge of the wing root, with the aircraft upright and gear down

Power System

2x 3530-1900KV Brushless Outrunner Motors

Electronic Speed Control

2x 100 Amp ESCs with EC5 Connectors

Propeller / EDF

2x 80mm EDFs with 9 Blade Fans

Servos

9g metal gear digital standard with two 300mm leads : landing gear door
17g metal gear digital standard with two 300mm leads : nose gear steering
30g metal gear digital standard with two 300mm leads : left aileron, right aileron
17g metal gear digital standard with two 100mm leads : left inboard flap, right inboard flap
17g metal gear digital standard with 300mm lead (+ 100mm lead) : left outboard flap, right outboard flap
17g metal gear digital standard with two 550mm leads : right elevator
17g metal gear digital reverse with two 550mm leads : left elevator
17g metal gear digital standard with two 550mm leads (+ 100mm lead) : left rudder, right rudder


Landing Gear
Grass-ready scale oleo nose strut and tensioned trailing link main struts

Required Battery

2x 6S 22.2V 4000mAh - 6000mAh LiPo with EC5 Connector

Required Radio

6+ Channel

Ailerons
Yes

Elevator

Yes

Rudder
Yes

Flaps

Yes

Lights

Yes

Hinge Type

Nylon reinforced hinges

Material
EPO Foam
Skill Level
Advanced
Build Time
1 Hour
Recommended Environment
Outdoor