Freewing Eurofighter Typhoon V2 90mm EDF Thrust Vectoring Jet PNP RC airplane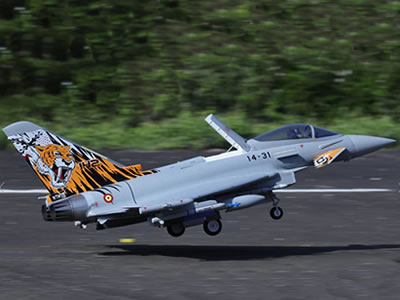 Freewing Eurofighter Typhoon V2 90mm EDF Thrust Vectoring Jet PNP RC airplane
Wholesale price: [ $350.00 ]
Freewing Eurofighter Typhoon V2 90mm EDF Thrust Vectoring Jet PNP RC airplane
1.with 3748-1450KV brushless outrunner motor.
2.7 Channel Radio,7 Channel Receiver
3.required 6 Cell 22.2V 5000 mAh Lipo Battery with EC5 connector .
if you want to know wholesale discount price,please contact us by e-mail.
Note:
If your shipment is delivered to a remote area,this charge will be added to your shipping cost.Checking your area is a remote area or is not a remote area on the website:http://remoteareas.dhl.com/jsp/first.jsp
Freewing Eurofighter Typhoon V2 90mm EDF Thrust Vectoring Jet PNP RC airplane Specifications:
The Freewing Eurofighter is one of the most unique EDF jets in both looks and function, and now it's available in a significantly upgraded version 2. The new version of the Eurofighter now includes a 12-blade EDF with metal housing powered by a massive 3748-1450KV Outrunner Motor which produces over 7 pounds of thrust for extreme speeds and intense aerobatics. The sound produced from the 12 blade EDF will simply blow you away. While 5 and 6 blade EDF produce a high pitched whining sound, the 12 blade EDF with metal housing produces the "whoosh" and air crushing sound similar to a gas turbine jet.
Freewing spared no expense with electronics in this plane, they are using a 130A ESC and 9 gram metal gear servos on all control surfaces. The assembly (and disassembly) process of the Eurofighter has also been improved; no more gluing of wing surfaces - the wings, rudder and canards are mechanically attach to the fuselage with screws. The nose and main landing gear are all metal and include redesigned shock absorbing struts to protect the gear during hard landings. Other upgrades include super bright LED landing and navigation lights, sequenced landing gear doors, magnetically attached drop tanks, and detailed cockpit. If you want the ultimate in thrust vectoring maneuverability combined with top of the line scale appearance, look no further than the new Freewing Eurofighter Typhoon V2 90mm EDF Jet.
FEATURES:
Giant scale electronic ducted fan RC jet (measuring almost five feet in length) with numerous scale features - functional canards, hand painted pilot, highly detailed cockpit, molded panel lines, scale air intake, drop tanks and more
Dual 360 degree vectored thrust allows advanced maneuvers like hovering, flip turns, and flat spins
12 Blade factory balanced EDF with metal housing combined with 3748-1450KV brushless outrunner motor produces realistic jet turbine sound and an incredible 7 lbs of thrust
Composite fan blades combined with metal EDF housing make the Eurofighter V2 AMA compliant (the fan blades themselves are NOT metal, so there are no flying restrictions)
130 Amp Hobbywing ESC with 8A UBEC
New glueless assembly and mechanical wing attachments provides a stronger airframe and aid in transportation of the Eurofighter V2
Flight surfaces are controlled with 9g metal gear servos for precise movement, strength and long life
Bright LED landing and navigation lights for enhanced realism and dawn/dusk maneuvers
Electronic retractable landing gear with all metal shock-absorbing struts and metal trunnions
Scale, sequenced gear doors provide added realism and improved aerodynamics
Drop tanks attach to the underside of the wings with rare earth magnets making them easy to remove before high speed flight
Upgraded pushrod clevis and metal ball head connectors provide a robust connection between servo and control surface and eliminate "play"
Nylon hinges on all control surfaces (superior to foam hinges)
Brushless outrunner motor, servos, ESC and 12 blade EDF come pre-installed for your convenience
REQUIRES:
7 Channel Radio - Select a minimum 7 channel radio
7 Channel Receiver - Select a minimum 7 channel receiver
6 Cell 22.2V 5000 mAh Lipo Battery with EC5 connector
6 Cell Compatible Battery Charger - Select a minimum 6 cell (6S) charger
SPECIFICATIONS:
Wingspan

960mm / 37.8in

Length

1400mm / 55in

Flying Weight

3050g / 107.6oz

CG (Center of Gravity)
check manual

Power System

3748-1450kV Brushless Outrunner Motor

Electronic Speed Control

130A ESC, 8A UBEC with EC5 connector

Propeller / EDF

90mm Metal EDF with 12 Blade Fan

Servos

9g gear standard with 100mm lead: Nose gear door, main gear door left, main gear door right
9g metal gear standard with 550mm lead: Left canard, right canard
9g metal gear standard with 300mm lead: Left aileron, right aileron, rudder, nose steering
9g metal gear standard with 100mm lead: Vector

Landing Gear
Full metal retractable main and steerable nose gear with shock absorbing struts

Required Battery

6S 22.2V 5000mAh 35C LiPo with EC5 connector

Required Radio

7 Channel

Ailerons
Yes

Elevator

Yes

Rudder
Yes

Flaps

No

Lights

Yes

Hinge Type

Nylon hinges

Material
EPS Foam
Skill Level
Expert
Build Time
3 Hours
Recommended Environment
Outdoor