Freewing de Havilland DH-112 Venom V2 Swiss Red 90mm EDF Jet PNP Rc Airplane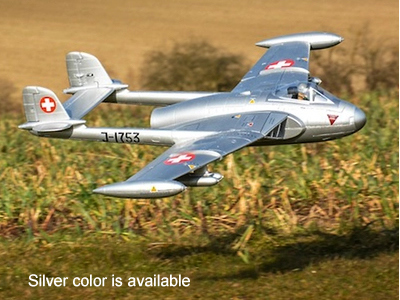 Freewing de Havilland DH-112 Venom V2 Swiss Red 90mm EDF Jet - PNP RC Airplane
Wholesale price: [ $386.00 ]
Freewing de Havilland DH-112 Venom V2 Swiss Red 90mm EDF Jet PNP Rc Airplane
(silver and red are available in stock)
1.3748-1450kv Brushless Motor.Color Type: silver and red
2.6 Channel Radio,6 Channel Receiver
3.6 Cell Compatible Battery Charger
if you want to know wholesale discount price,please contact us by e-mail.
Note:
If your shipment is delivered to a remote area,this charge will be added to your shipping cost.Checking your area is a remote area or is not a remote area on the website:http://remoteareas.dhl.com/jsp/first.jsp
Freewing de Havilland DH-112 Venom V2 Swiss Red 90mm EDF Jet PNP Rc Airplane Specifications:
this upgraded version has significant upgrades to both the power system and the airframe. The Venom V2 now includes a 12 blade fan, 130A ESC, and powerful 3748-1450kv brushless motor. Structural upgrades include an increased number of carbon wing spars for rigidity, strengthening of the overall tail section, and a complete redesign of the horizontal and vertical stabilizer sections for improve performance and scale appearance.
Specification:
WNew - 90mm 12 blade ducted fan with metal housing and powerful 3748-1450kV brushless motor provides awesome power and incredible real life jet turbine sound.
New - Premium quality 130 Amp Hobbywing ESC with 8A UBEC.
New - stronger tail section, with revised rudder and elevator.
New - Increased carbon spar count and EPO foam construction provide the perfect balance between strength and flexibility.
Incredible scale details including hand painted pilots, scale canopy, shock absorbing landing gear, sequenced landing doors, and stunning Swiss Air Force graphics package.
Large, nearly 5 foot, wingspan provides incredible scale detail and easy to see even at high speeds.
Bright LED navigation lights for enhanced realism and dawn/dusk maneuvers.
Electronic retractable landing gear with aluminum shock absorbing struts and sequenced gear doors.
Full function flaps allow shorter take-off distances and slow, scale landings.
Nylon hinges on all control surfaces (superior to foam hinges).
Motor, servos, ESC and EDF come pre-installed for your convenience.
REQUIRES:
6 Channel Radio - Select a minimum 6 channel radio
6 Channel Receiver - Select a minimum 6 channel receiver
6 Cell 22.2V 4000mAh LiPo Batterywith EC5 connector
6 Cell Compatible Battery Charger - Select a minimum 6 cell (6S) charger
Color Type: silver and red,the 2 type color are availabel,please tell us color when you order.
| | |
| --- | --- |
| Wingspan | 1500mm / 59in |
| Length | 1100mm / 43.3in |
| Flying Weight | 2500g / 88.2oz |
| CG (Center of Gravity) | See Manual |
| Power System | 3748-1450kv Brushless Motor |
| Electronic Speed Control | 130A, 8A UBEC with EC5 connector |
| Propeller / EDF | 90mm 12-Blade EDF |
| Servos | 9 x 9g high speed servos |
| Landing Gear | Nose and main gear have electronic retracts with shock-absorbing aluminum struts |
| Required Battery | 6S 22.2V 3600-4000mAh 40C LiPo with EC5 connector |
| Required Radio | 6 Channel |
| Ailerons | Yes |
| Elevator | Yes |
| Rudder | Yes |
| Flaps | Yes |
| Lights | Yes |
| Hinge Type | Nylon hinges |
| Material | EPO Foam |
| Skill Level | Intermediate |
| Build Time | 2 Hours |
| Recommended Environment | Outdoor |