Freewing P-51D HP Old Crow 1410mm (55 inch) Wingspan PNP RC Airplane without Sound Effect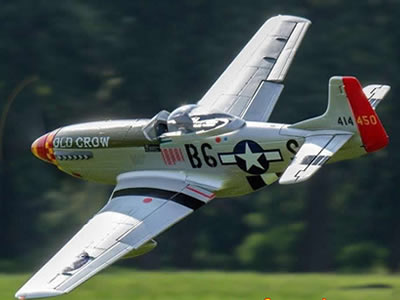 Freewing P-51D HP Old Crow 1410mm Wingspan PNP RC Airplane
Wholesale price: [ $290.00 ]
Freewing P-51D HP Old Crow 1410mm (55 inch) Wingspan PNP Rc Airplane
1.80A ESC with XT60 connector, 4258-580kV motor are in the package.
2. 6 Channel Radio,6 Channel Receiver
3.Require 4 Cell 14.8V 3600mAh-4000mAh LiPo Battery with XT60 Connector(not included).
if you want to know wholesale discount price,please contact us by e-mail.
Note:
If your shipment is delivered to a remote area,this charge will be added to your shipping cost.Checking your area is a remote area or is not a remote area on the website:http://remoteareas.dhl.com/jsp/first.jsp
Freewing P-51D HP Old Crow 1410mm (55 inch) Wingspan PNP Rc Airplane Specifications:
Freewing P-51D High Performance (HP) Mustang with Old Crow WWII Color Scheme - Receiver Ready (PNP) - FW30121P:
Important Note: this Item is without Sound Effect,please pay attention before you order.
Colonel Clarence E. "Bud" Anderson is a WWII Triple Ace who flew his famed P-51 Mustang Old Crow while assigned to the 357th Fighter Group Yoxford Boys, 8th Air Force, Leiston Field, United Kingdom. The 357th Fighter Group was credited with downing 609 1/2 enemy aircraft in only 15 months, a pace no other fighter group equaled. Naming his aircraft Old Crow for his sharp eyesight, Colonel Anderson was the leading Ace of the 363rd Fighter Squadron with 16.25 victories over 116 missions, and was never shot down. After the War, he led McDonnell Aircraft's flight test facility for 26 years. In July 2008, Colonel Anderson was inducted into the National Aviation Hall of Fame. Colonel Anderson, once called "the best fighter pilot I ever saw" by his friend Brigadier General Chuck Yeager, resides in Auburn, CA where he continues to inspire millions worldwide to this day.
To honor Colonel Anderson, his renowned aircraft, and his Fighter Group's heroism, Freewing Model have partnered together to create a Special Edition of Freewing's popular 1400mm P-51D Mustang. With assistance from Colonel Anderson to ensure the ld Crowlivery's accuracy,Freewing Model is proud to provide this exciting and unique Special Edition. As an additional bonus to set it apart, this Special Edition "Old Crow" also features an upgraded high performance (HP) power system and two bladed propeller which provides nearly unlimited vertical performance and a 25% increase in top speed compared to the Freewing 1400mm P-51D 'Iron Ass'.
FEATURES:
Historical "Old Crow" livery details as provided by Colonel Anderson himself.
All new motor, 80A ESC, and two blade EMP 16x10 propeller gives 25% more thrust and 25% faster speed than previous Freewing P-51.
Pilots can choose to fly with the scale four bladed prop and spinner from the previous Freewing P-51 "Iron Ass" for scale performance.
Super scale details including hand painted pilot, detailed instrument panel and radio boxes, "Old Crow" WWII graphics, molded engine exhausts, machine gun barrels, drop tanks, air scoop, sequenced main gear and tail gear doors.
Bright white LED landing lights drop down when the gear is deployed just like the real P-51 Mustang.
LED navigation lights on each wingtip for enhanced realism and dawn/dusk maneuvers.
Expandable LED controller with four unused light ports. Add cockpit lighting or other custom light locations.
Heavy duty, all metal shock absorbing retracts for maximum performance and reliability.
Retractable, steerable tail gear for sleek, realistic look.
Flight surfaces are controlled with 17g metal gear servos for precise movement, strength and long life.
Sliding cockpit canopy enhances scale appearance and makes it easy to change pilot or install camera in cockpit.
Upgraded pushrod clevis and metal ball link head provide a robust connection between servo and control surface and eliminate "slop".
Full function flaps allow shorter take-off distances and slow, scale landings.
Scale "gapless hinged" flaps, ailerons, and rudder, like the real Mustang.
Internal carbon spar reinforcement and EPO foam construction provide the perfect balance between strength, flexibility, and weight.
Nylon hinges on all control surfaces (superior to foam hinges)
Motor, servos, and ESC are all pre-installed for your convenience

INCLUDES:
55 inch Wingspan Freewing Super Scale P-51D HP Mustang - Receiver Ready (PNP)
2 Blade propeller designed for high performance flight. 4 blade, scale propeller is available separately.
Premium quality electronics including 80A ESC with XT60 connector, 4258-580kV motor and metal gear servos
LED light controller and gear door sequencer.
REQUIRES:
6 Channel Radio - Select a minimum 6 channel radio
6 Channel Receiver - Select a minimum 6 channel receiver
4 Cell 14.8V 3600mAh-4000mAh LiPo Battery with XT60 Connector - EPR40004X6
4 Cell Compatible Battery Charger - Select a minimum 4 cell (4S) charger
SPECIFICATIONS:
Wingspan

1410mm / 55.5in

Length

1200mm / 47.2in

Flying Weight

2600g / 91.7oz

CG (Center of Gravity)
Check Manual

Power System

4258-580kV Brushless Outrunner Motor

Electronic Speed Control

80A with XT60 Connector

Propeller / EDF

16 X 10 2 Blade Propeller

Servos

9g standard with 300mm lead : right gear door
9g reverse with 300mm lead : left gear door
9g standard with 100mm lead : tail gear doors
9g standard with 550mm lead : rear landing gear
17g metal gear standard with 100mm lead : tail gear steering
17g metal gear standard with 300mm lead : left flap, elevator
17g metal gear standard with 550mm lead : left aileron, right aileron
17g metal gear reverse with 100mm lead : rudder
17g metal gear reverse with 300mm lead : right flap


Landing Gear
Main Gear: full metal, shock absorbing struts with electronic retracts
Tail Gear: electronic retractable and steerable

Required Battery

4S 14.8V 3600mAh or 4000mAh 40C LiPo with XT60 Connector

Required Radio

6 Channel

Ailerons
Yes

Elevator

Yes

Rudder
Yes

Flaps

Yes

Lights

Yes - Landing and Navigation

Hinge Type

Nylon hinges

Material
EPO Foam
Skill Level
Intermediate to Advanced
Build Time
2 Hours
Recommended Environment
Outdoor