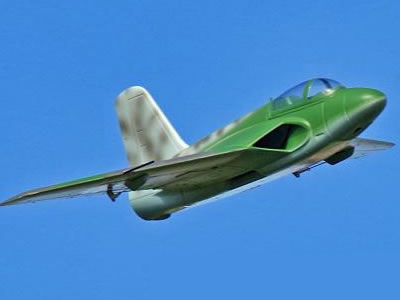 Freewing Lippisch P15 64mm EDF Jet PNP RC Airplane
Wholesale price: [ $95.00 ]
Freewing Lippisch P15 64mm EDF Jet PNP Rc airplane
1.6 Cell 22.2V 5000 MAh 50c Lipo Battery with EC5 Connector.
2.8 Channel Radio,8 Channel Receiver
3.130 Amp ESC with 8A UBEC (PNP only).
if you want to know wholesale discount price,please contact us by e-mail.
Note:
If your shipment is delivered to a remote area,this charge will be added to your shipping cost.Checking your area is a remote area or is not a remote area on the website:http://remoteareas.dhl.com/jsp/first.jsp
Following up on their popular 70mm variant, Freewing has answered the many customer calls to scale up their the Freewing 64mm P.15r 64mm EDF Jet PNP Rc airplaneand give it the full "90mm Super Scale" treatment.
The Freewing 64mm P.15 continues the ParkJet series following the incredibly popular F-8 Crusader and F-105 Thunderchief, After two American fighter jets, we're changing things up to spotlight the excellent characteristics of an Axis-designed flying wing from the Second World War,Compared to the F-8 and F-105, the P.15 is even more stable, more potentially acrobatic, and more efficient.In ideal conditions, its low wing loading can allow for 50% longer flight times on the same battery with throttle management. Aside from having a very low stall speed which will appeal to beginner pilots looking to fly slower and learn to fly an EDF, the P.15 also has lots of high speed potential for advanced pilots who are more comfortable with lighting fast rolls, snaps, and tumbles.
Powered by an efficient 64mm 5 blade EDF fan unit, 30A ESC and 2627-4500kv brushless outrunner motor, the Freewing 64mm P.15 Thunderchief reaches a top speed of 116kph/72mph using a single inexpensive Admiral 3S 1000 mAh - 2200 mAh lipo battery with XT60 connector. While designed with simplified flight control surfaces and intended for hand launches and belly landing on grass runways, an optional landing gear set is sold separately for steerable operation on paved runways.
FEATURES:
Durable EPO foam and reinforced construction
Flying wing characteristics: stable slow flight and fast forward flight
Never modeled in foam before, celebrating the jet version of the Me-163
Realistic shape and detailing
Dynamically balanced 5 Blade EDF fan for efficient power
Minimal assembly
Optional steerable landing gear (sold separately)
INCLUDES:
Freewing Lippisch P.15 64mm EDF Jet - PNP
REQUIRES:
4 Channel radio - select a minimum 4 channel radio
4 Channel receiver - select a minimum 4 channel receiver
3 Cell 11.1V 1000 - 2200 mAh Li-Po Battery with XT60 Connector
3 Cell compatible battery charger - select a minimum 3 cell (3S) charger

PRODUCT SPECIFICATIONS:

| | |
| --- | --- |
| Wingspan | 750mm / 29.5in |
| Length | 495mm / 19.5in |
| Weight (w/o battery) | 260g / 9.17oz |
| CG (Center of Gravity) | 58mm (refer to manual for visual of precise measuring location) |
| Power System | 2627-4500kV Brushless Outrunner Motor |
| Electronic Speed Control | 30A, XT60 Connector |
| Propeller / EDF | 64mm 5-Blade EDF |
| Servos | 9g standard plastic gear with 300mm lead : left elevon, right elevon |
| Landing Gear | Optional (sold separately) |
| Required Battery | 3 Cell 11.1V 1000 - 2200 mAh Li-Po Battery with XT60 Connector (required) |
| Required Radio | 4 Channel (required) |
| Ailerons | Elevons |
| Elevator | Elevons |
| Rudder | No |
| Flaps | No |
| Lights | No |
| Hinge Type | Foam |
| Material | EPO Foam |
| Skill Level | Intermediate |
| Build Time | 1 Hour |
| Recommended Environment | Outdoor |