Freewing F-22 Raptor 64mm EDF Jet PNP RC Airplane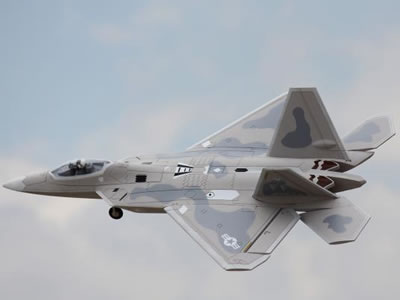 Freewing F-22 Raptor 64mm EDF Jet - PNP RC Airplane
Wholesale price: [ $105.00 ]
Freewing F-22 Raptor 64mm EDF Jet PNP RC Airplane
1.2627-4300Kv.
2.4 Channel Radio,4 Channel Receiver
3.please Select a minimum 3 cell (3S) charger
if you want to know wholesale discount price,please contact us by e-mail.
Note:
If your shipment is delivered to a remote area,this charge will be added to your shipping cost.Checking your area is a remote area or is not a remote area on the website:http://remoteareas.dhl.com/jsp/first.jsp
Freewing F-22 Raptor 64mm EDF Jet PNP RC Airplane Specifications:
the F-22 Raptor is the US Air Force's ultimate super-maneuverable, stealth fighter aircraft. The clean lines, stealth profile, and scale details are all captured in this exceptional 64mm EDF Jet from Freewing Models. Simplicity and durability were major design factors with this model. All airfoil surfaces (main wings, rudders, and elevators) are attached to the fuselage using a new modular joiner system which improves strength and allows easy parts replacement. Quality electronic components come pre-installed so you can be in the air in less then one hour. This 3 Cell version offered by freewing model Rc Airplane manufacturer,is an ideal second jet, perfect for pilots looking for a performance aircraft at an affordable price.
FEATURES:
Scale design including US Air Force sky-camo graphics, hand-painted pilot, detailed cockpit, and landing gear
Full size, independent elevators provide level flight and improved aircraft climbing ability
Main wing, rudder and elevators are all detachable making the aircraft easy to transport and easy to repair (no gluing)
Fixed, scale landing gear design helps keep the F-22 lightweight and also improves the model's flying life
Large ESC cooling vents help extend the life of the on-board electronics
Nylon hinges on all control surfaces (superior to foam hinges)
Durable EPO material is stronger and more flexible than conventional foam airframes
Brushless motor, ESC and servos come pre-installed for your convenience
REQUIRES:
4 Channel Radio - Select a minimum 4 channel radio
4 Channel Receiver - Select a minimum 4 channel receiver
3 Cell 11.1V 1800mAh LiPo Battery with XT60 Connector
3 Cell Compatible Battery Charger - Select a minimum 3 cell (3S) charger
PRODUCT SPECIFICATIONS:
Wingspan

690mm / 27.2in

Length

950mm / 37.4in

Flying Weight

750g / 26.46oz

Power System

2627-4300Kv

Speed Control

30A internal SBEC with XT60 Connector

Propeller / EDF

64mm EDF

Servos

9g standard with 100mm lead : left elevator, left aileron, right aileron
9g reverse with 100mm lead : right elevator
9g standard with 300mm lead : nose gear steering


Landing Gear

Fixed main landing gear, steerable nose gear.

Required Battery

3S 11.1V 1800mAh to 2200Ah 25C LiPo with XT60 Connector

Required Radio

4 Channel computer radio

Rudder

No

Flaps

No

Ailerons

Yes

Lights

No

Hinge Type

Nylon hinges on all control surfaces

Material

EPO Foam