Freewing Yak-130 Red 70mm EDF Jet PNP RC Airplane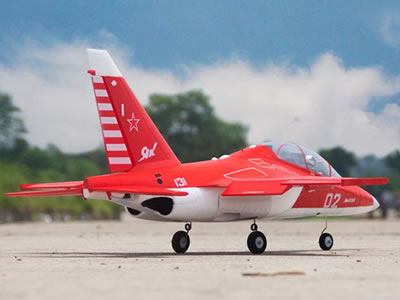 Freewing Yak-130 Red 70mm EDF Jet PNP RC Airplane
Wholesale price: [ $216.00 ]
Freewing Yak-130 Red 70mm EDF Jet PNP RC Airplane
1.2627-4300Kv.
2.4 Channel Radio,4 Channel Receiver
3.please Select a minimum 3 cell (3S) charger
if you want to know wholesale discount price,please contact us by e-mail.
Note:
If your shipment is delivered to a remote area,this charge will be added to your shipping cost.Checking your area is a remote area or is not a remote area on the website:http://remoteareas.dhl.com/jsp/first.jsp
Freewing Yak-130 Red 70mm EDF Jet PNP RC Airplane Specifications:
Freewing 70mm Yak-130, the latest in Freewing's exciting 70mm 6s jet series! This aircraft delivers on so many levels and truly impressed us at the flying field. Finally, a compact and affordable model of the popular Yak-130 design with a range of features seldom seen in the 70mm format.
On the ground and in the air, the Yak-130 looks fantastic at any angle. The high visibility Red 02 trainer scheme gives pilots a scale model which is still very easy to orient in the sky. If you are looking for a change from gray military jets, the Yak-130 will certainly stand out from the crowd! A detailed canopy and high scale fidelity profile capture the unique lines of this modern jet trainer, and over 50 waterslide decals are meticulously applied by hand to complete the look.
Even beyond its striking visual appeal, where the Yak-130 truly excels is its performance envelope. Pre-installed flaps shorten takeoff roll on pavement to a brief to 75 feet, and with full flaps the model can land to a stop in less than 100 feet with a slight headwind. The stock PNP's 6s power system propels the Yak-130 to speeds approaching 90mph straight and level and gives the aircraft nearly unlimited vertical. With its large vertical stabilizer, the Yak-130 can hold a rock steady knife edge or execute the most stable four point roll of any Freewing jet in this class. The stall is very gentle and slowly nose down, forecasted by a telltale wing rocking which gives pilots plenty of notice to power up.
The battery bay is spacious to accommodate CG with a 6s 3000-4000mAh lipo. The simplified landing gear is durable, utilizing metal trunions and steel coiled struts on the mains for dependable operation on pavement, geomat, or very short and evenly cut grass. For the ultimate in a versatility, the landing gear can also be removed and the aircraft can be hand tossed and belly landed.
Assembly is very straightforward. The wings each attach to the fuselage with two screws and a primary carbon wing spar. The vertical stabilizer and horizontal stabilizer tail group is glued on; we recommend 5 minute epoxy. The layout still allows easy access to the elevator servos for adjustment or replacement. A neat feature we enjoy is that the wingtip rails are smartly sheathed in plastic, to ward against dings or scratches during transport or a tipped landing. The EDF is easily accessed by a removable hatch on the aircraft's belly, and the ESC is kept secure in a channel along the inner spine of the fuselage to give it sufficient cooling without obstructing airflow.
Freewing 70mm Yak-130 offers pilots the perfect transition aircraft from 64mm/70mm into 80mm/90mm jets. We found the Yak-130 to be ideal as a first or second jet with retracts for pilots looking to gain experience and confidence before making the jump into larger models. Even expert level pilots will appreciate the fun flight envelope of this unique modern jet trainer.
offered by freewing model Rc Airplane manufacturer,is an ideal second jet, perfect for pilots looking for a performance aircraft at an affordable price.
FEATURES:
Features:
Simplified EPO construction for comfortable handling at all speeds
6 Blade factory balanced EDF with 2849-2200kV outrunner motor (6S PNP only)
60 Amp ESC with EC5 connector and 5A BEC
Removable wings and carbon spar
High visibility Red 02 scale trainer scheme
Electronic retractable landing gear with 3mm steel wire struts and metal trunnions
Nylon hinges on aileron and elevator
Plastic-sheathed nose cone and wing tip missile rails for added durability
All electronics come pre-installed for your convenience (6S PNP only)
Some gluing and assembly required
Includes:
Freewing 70mm Yak-130 EDF Jet - PNP
PRODUCT SPECIFICATIONS:
| | |
| --- | --- |
| Wingspan | 920mm / 36.22in |
| Length | 1050mm / 41.33in |
| Weight | 1720g / 60.67oz? |
| CG (Center of Gravity) | 72mm from the leading edge of the wing at the root with the landing gear retracted and the model upright |
| Power System | 2849-2200kV motor?Brushless Outrunner Motor |
| Electronic Speed Control | 60A, EC5 Connector |
| Propeller / EDF | 70mm 6-Blade EDF? |
| Servos | 5x 9g metal gear standard, 2x 9g metal gear reverse |
| Landing Gear | Full electronic retractable nose and main landing gear with metal trunnions |
| Required Battery | 6S 22.2V 3000 - 4000mAh LiPo (required) |
| Required Radio | 6 Channel (required) |
| Ailerons | Yes |
| Elevator | Yes |
| Rudder | Yes |
| Flaps | Yes |