Freewing F-15 Eagle 64mm EDF Jet PNP Rc Airplane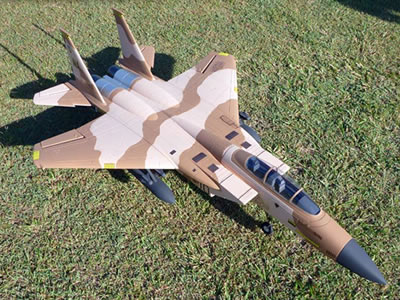 Freewing F-15 Eagle 64mm RC EDF Jet (PNP) - Desert Scheme RC Airplane
Wholesale price: [ $190.00 ]
Freewing F-15 Eagle 64mm RC EDF Jet PNP Rc Airplane
1.3500kv outrunner.
2.4 Channel Radio,4 Channel Receiver
3. Battery: 4S 14.8v 2200mAh 20C Lipo (Required)
if you want to know wholesale discount price,please contact us by e-mail.
Note:
If your shipment is delivered to a remote area,this charge will be added to your shipping cost.Checking your area is a remote area or is not a remote area on the website:http://remoteareas.dhl.com/jsp/first.jsp
Freewing F-15 Eagle 64mm RC EDF Jet PNP Rc Airplane Specifications:
Freewing F-15 "Eagle" 64mm RC EDF Jet (RTF) - Desert Scheme Possibly the best Starter EDF Jet on the Market Today!

Specification:
Wingspan: 741mm (29.1 inch)
Length: 1100mm (43.3 inch)
Weight: 680g (23.98 oz)
Fan Unit: 64mm

Motor: 3500kv outrunner
ESC: 45A
Servos: 5 x 9g
Battery: 4S 14.8v 2200mAh 20C Lipo (Required)
Radio: 4 channel radio system (Required)
Features:
4 channel Radio Control (Rudder (nose-wheel), Aileron, Elevator and Throttle)
Impact resistant foam construction - easy to repair
Steerable tail-wheel for ground control
Magnetic battery hatch
Scale desert paint scheme
Scale ordinance and under wing fuel tanks included

Easy to fly
90% assembled - all electronics (servos, ESC and motor) pre-installed at factory, just finish airframe assembly, connect up the servos, charge the battery and fly!
Description: This is one of our best Daily Flyer EDF Jets - I have to say, we have never had so much fun as we have had with these badboy's. Straight out of the box it flys straight and level, CG sits perfect and the Jet looks striking in the air. With over 1:1 Thrust rating she pulls vertical with little to no effort at all. It has an outstanding roll rate as seen in the video below. For a jet that gives you that little bit more I believe you cant go wrong with this jet from Freewing. Grass strip take-off's and landings are no trouble at all, with a little head wind she will hold a good High Alpha and its Glide ability on Final is sweet and easy. Enjoy your flying today, put something a little special into your hangar.