Freewing Yak-130 Red Super Scale 90mm EDF Jet - ARF PLUS Servos RC Airplane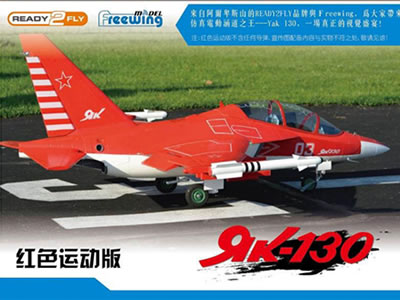 Freewing Yak-130 Red Super Scale 90mm EDF Jet ARF+Servos RC Airplane
Wholesale price: [ $438.00 ]
Freewing Yak-130 Red Super Scale 90mm EDF Jet - ARF PLUS Servos RC Airplane
1.with 4074-1700kV brushless inrunner motor.
2.7 Channel Radio,7 Channel Receiver
3.Select a minimum 6 cell (6S) charger
if you want to know wholesale discount price,please contact us by e-mail.
Note:
If your shipment is delivered to a remote area,this charge will be added to your shipping cost.Checking your area is a remote area or is not a remote area on the website:http://remoteareas.dhl.com/jsp/first.jsp
Freewing Yak-130 Red Super Scale 90mm EDF Jet PNP RC Airplane Specifications:
This is the ARF+ version for pilots who wish to install their own power system. All primary electronics including servos and landing gear come pre-installed, just add your own power system (EDF, motor, and ESC) to begin flying. ?Ordnance shown is sold separately.
Freewing offers you the most highly detailed, scale foam RC jet available on the market - the Yakovlev Yak-130. Designed as a trainer/light attack aircraft and entering into service in 2009, the Yak-130 is the most advanced trainer utilized by the Russian Air Force.?
The high visibility Red 02 trainer scheme gives pilots a scale model which is still very easy to orient in the sky. If you are looking for a change from gray military jets, the Yak-130 will certainly stand out from the crowd!?High end electronics and hardware are abound on this model from the super bright 3W navigation and landing lights to shock absorbing aluminum landing gear to the metal gear servos on every control surface.
For this ARF PLUS version of the Yak-130 a?4074-1700kV motor, 130A ESC and 12 blade fan with metal housing?is recommended. ?If you are a scale jet flyer looking for top of the line quality and superb detail, the Freewing Yak130 will not disappoint.
offered by freewing model Rc Airplane manufacturer,is an ideal second jet, perfect for pilots looking for a performance aircraft at an affordable price.
FEATURES:
Incredible scale details including full instrument cockpit, scale canopy, sequenced gear doors, and Russian Air Force graphics
High visibility Red 02 trainer scheme gives pilots a scale model which is very easy to orient in the sky
Flight surfaces are controlled with 17g digital metal gear servos for precise movement, strength and long life
Ultra-bright LED landing and navigation lights for enhanced realism and dawn/dusk maneuvers
Electronic retractable landing gear with aluminum shock absorbing struts and sequenced gear doors
Upgraded pushrod clevis and metal ball head buckle provide a robust connection between servo and control surface and eliminate "play"
Full function flaps allow shorter take-off distances and slow, scale landings
Carbon spars and EPO foam construction provide the perfect balance between strength and flexibility
Nylon hinges on all control surfaces (superior to foam hinges)
All primary electronics including servos and landing gear come pre-installed for your convenience
INCLUDES:
Freewing Yak-130 Red Super Scale 90mm EDF Jet - ARF PLUS Servos
REQUIRES:
Motor, EDF, ESC recommendations
7 Channel Radio - Select a minimum 7 channel radio
7 Channel Receiver - Select a minimum 7 channel receiver
6 Cell 22.2V 5000 mAh LiPo Battery with EC5 Connector
6 Cell Compatible Battery Charger - Select a minimum 6 cell (6S) charger
PRODUCT SPECIFICATIONS:
| | |
| --- | --- |
| Wingspan | 1200mm / 47.2in |
| Length | 1500mm / 59in |
| Flying Weight | 4000g / 141oz |
| CG (Center of Gravity) | |
| Required Power System | 4074-1700kV Brushless Inrunner Motor (recommended) |
| Required Electronic Speed Control | 130A, 8A UBEC, EC5 connector (recommended) |
| Propeller / EDF | 90mm metal housing with 12-blade impeller (recommended) |
| Servos | 9g and 17g digital metal gear servos |
| Landing Gear | Nose and main gear have electronic retracts with shock-absorbing aluminum struts |
| Required Battery | 6S 22.2V 5000-6000mAh 40C LiPo |
| Required Radio | 6 Channel (7 channel for wind break) |
| Ailerons | Yes |
| Elevator | Yes |
| Rudder | Yes |
| Flaps | Yes |
| Lights | Yes |
| Hinge Type | Nylon hinges |
| Material | EPO Foam |
| Skill Level | Expert |
| Build Time | 2 Hours |
| Recommended Environment | Outdoor |